First Prize $1000 for the Winning Table!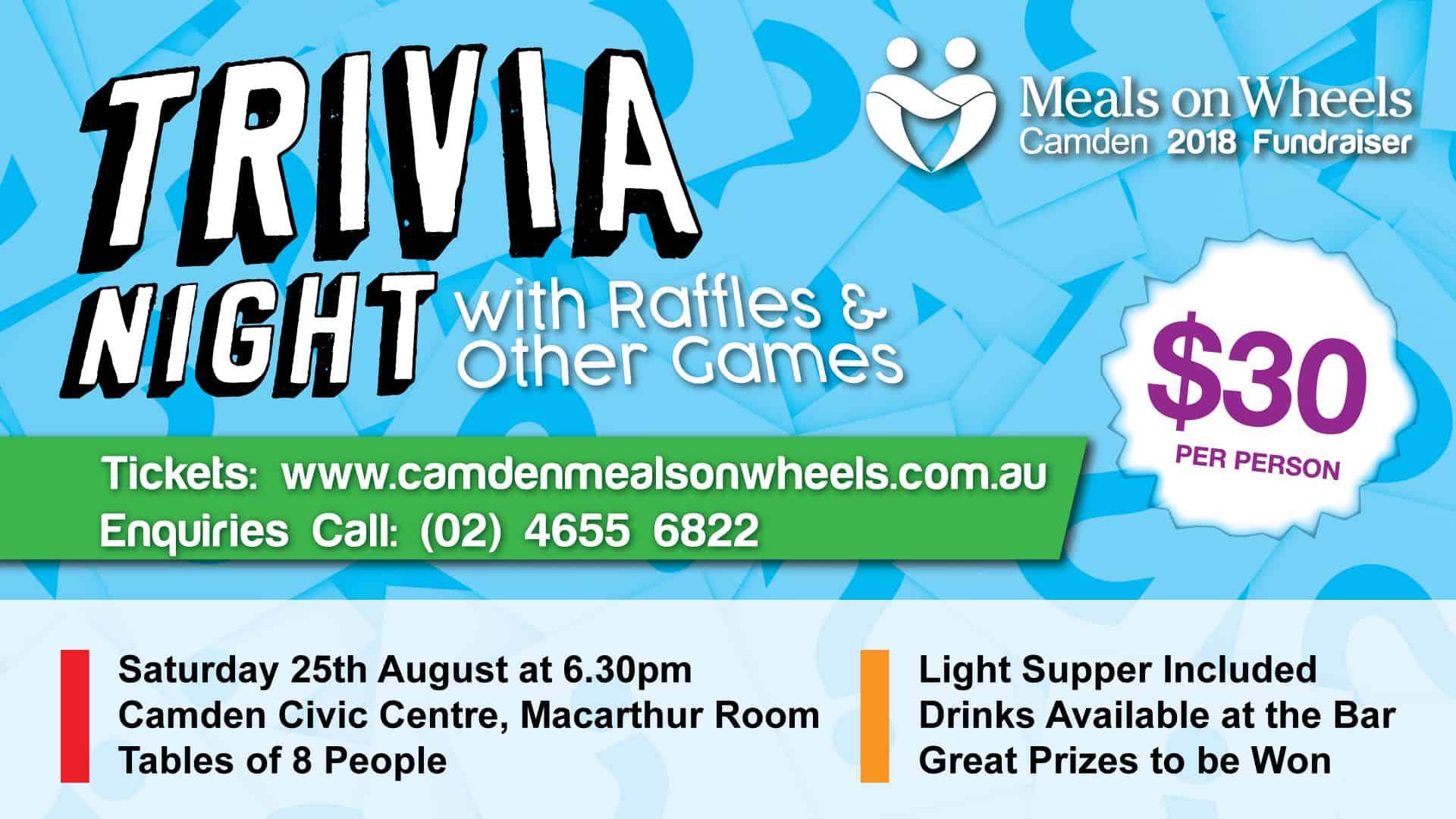 Why Support Our Event?
Each year, the Camden Meals on Wheels Fundraising Committee puts together a fun event for the local community which helps to celebrate and raise awareness of this great local charity. This year's Trivia Night is hosted at the Camden Civic Centre and will raise much needed funds to help support all operations, including meal deliveries, transport services and social support. Camden Meals on Wheels Inc is a local not-for-profit charity, delivering more than just a meal in Camden since 1970.
What's Happening on the Night?
Expect an entertaining evening, shared with local members of your community, all competing for the notoriety of becoming the 2018 Camden Meals on Wheels Trivia Night Champions, along with a $1000 cash prize for the winning team!
Many fantastic prizes have been donated by our sponsors, which will be awarded throughout the night as part of our minor and major raffles, and lucky number game. 
As we draw closer to the date, more specifics and announcements will be made. Please stay tuned or call the office to find out more.
Corporate Sponsorship Information
We are currently finalising our corporate sponsorship packages which will be advertised on this page very soon.
<div class="fb-page" data-href="https://www.facebook.com/mowcamden/" data-tabs="timeline" data-width="250" data-height="600" data-small-header="false" data-adapt-container-width="true" data-hide-cover="false" data-show-facepile="true"><div class="fb-xfbml-parse-ignore"><blockquote cite="https://www.facebook.com/mowcamden/"><a href="https://www.facebook.com/mowcamden/">Meals on Wheels Camden</a></blockquote></div></div>